Guest Blogged by John Gideon of VotersUnite.org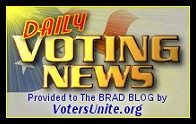 On the heels of yesterday's announcement of a letter to the Election Assistance Commission (EAC) and a full report on the findings of an investigation by the California Secretary of State's office, we have articles from Kim Zetter in her blog for Wired Magazine and one from one of the principles of the "Humboldt County Election Transparency Project," Mitch Trachtenberg that is posted on The BRAD BLOG.
Yesterday I mentioned the letter sent by the Secretary of State to the EAC. In that letter is a request by Bowen that the EAC "consider requiring that, for every voting system certified by the EAC, the voting system vendor report any and all flaws and problems with the system to the EAC and to the elections officials in the states where the system is used when such flaws are discovered." This morning I was reminded by a member of the EAC staff, who receives DVN, that in the "Testing and Certification Manual" the EAC already requires what the Secretary has suggested they require....
**"Daily Voting News" is meant as a comprehensive listing of reports each day concerning issues related to election and voting news around the country regardless of quality or political slant. Therefore, items listed in "Daily Voting News" may not reflect the opinions of VotersUnite.Org or BradBlog.Com**