Guest blogged by David Edwards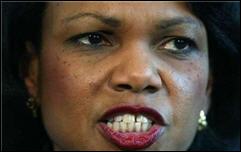 Secretary of State Rice is in Europe this week defending the U.S. policies including the use of secret prisons and the CIA practice called "extreme rendition".
ABC News is reporting that prior to Rice's European trip, the CIA moved quickly to relocate all secret prisoners located in Europe.

Current and former CIA officers speaking to ABC News on the condition of confidentiality say the United States scrambled to get all the suspects off European soil before Secretary of State Condoleezza Rice arrived there today. The officers say 11 top al Qaeda suspects have now been moved to a new CIA facility in the North African desert.
...
All but one of these 11 high-value al Qaeda prisoners were subjected to the harshest interrogation techniques in the CIA's secret arsenal, the so-called "enhanced interrogation techniques" authorized for use by about 14 CIA officers and first reported by ABC News on Nov. 18.
Rice today avoided directly answering the question of secret prisons in remarks made on her departure for Europe, where the issue of secret prisons and secret flights has caused a furor.
...
Of the 12 high-value targets housed by the CIA, only one did not require water boarding before he talked. Ramzi bin al-Shibh broke down in tears after he was walked past the cell of Khalid Sheik Mohammed, the operational planner for Sept. 11. Visibly shaken, he started to cry and became as cooperative as if he had been tied down to a water board, sources said.